HOME MANUFACTURING WHY FEDEGARI
Passion for what we do
As autoclave and sterilizer manufacturer, we have always had a single goal: to build the world's best machines. That is why every smallest detail of our machines and related processes are analyzed to seek the simplest and most reliable solution.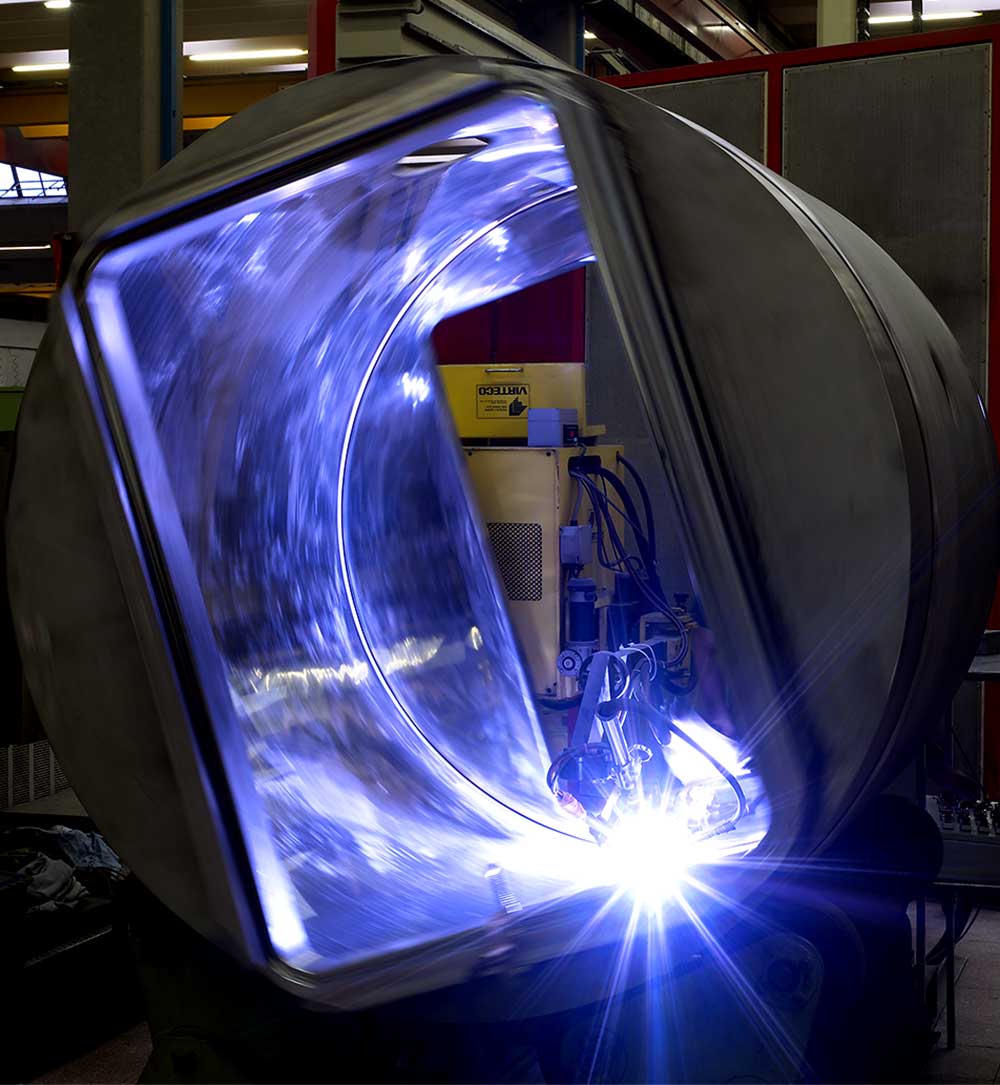 Our doors
Doors have been designed to eliminate critical stress points and ensure maximum operator safety and minimum maintenance needs.
A special gasket, patented by fedegari in 1982, ensures the tightness of the pressure vessel. The gasket is seated in a groove milled into the chamber frame, pressed by compressed air against the door and requires no vacuum for door opening.
Two door types are available: automatic vertical sliding doors and semi-automatic hinged doors. These solutions offer maximum flexibility and allow adaptation of the sterilizer to any installation constraint or preference. All doors are equipped with various safety devices and mechanical, pneumatic and process interlocks, to prevent unintentional openings.
Our piping
In custom-made machines, the piping becomes a critical issue: each machine is a "one-of-a-kind" unit and only a custom-made piping system can assure stunning performances. Fedegari's manufacturing experience is focused on bent tubes, to guarantee no "dead-leg" and leakage problems.

Our chambers
The chamber is an essential part of autoclaves, since cyclic pressure and temperature variations generate dangerous fatigue of the structure over time.
Fedegari was the first among manufacturers of these machines, in the early 1980s, in introducing an absolutely original manufacturing model aimed to avoid generation of high tensions in any point of the shell.
Our components
Fedegari's originality and flexibility set the foundations for devising a manufacturing model that enables building systems with very high-end characteristics. This result was achieved by working simultaneously on several fronts: from design to development of standardized assemblies to the use of specific manufactured in-house components.

FHPV – Hydrogen Peroxide Vaporizer
Unhappy with third party hydrogen peroxide vaporizers, we have decided to engineer and manufacture a new one on our own. Thanks to the integration with Thema4 – our process controller – we are now able to control the H2O2 concentration during bio-decontamination process, while our competitors can only estimate it. In this way, Fedegari vaporizer with control loop (PID based) provides superior reliability and repeatability for easier validation.
Thema4 supervision system
Thema4 supervision system is the evolution of Fedegari's process controller. Thanks to its software achitecture Thema4 supervision system is able to control various process machines and to manage a handling system. In this way, our customers can take the maximum advantage from integration.
Discover how our solutions can help you in optimizing your process!