Why Myths & Facts?
In the last years, Fedegari presented and joined various webinars and online training sessions on sterilization with technical experts and partners from pharma manufacturing all over the world.
These experiences brought up many questions from professionals and customers who joined our digital discussions. Rather than simply answering to these questions we saw it as an opportunity to create a collection of myths and facts regarding the sterilization process.
This project is based on the idea of an original paper published by our friend Jim Agalloco together with James Akers and Russel Madsen in 1998 in the PDA Journal, presenting 'Moist-heat sterilization – Myths and Realities'.  A revised version was published by the authors in
2009: "Revisiting the Moist Heat Sterilization Myths".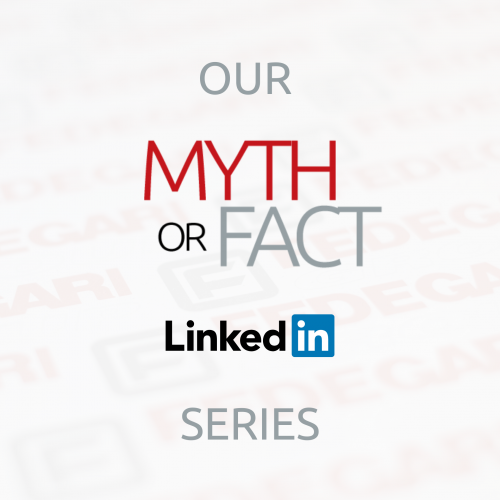 This new Myths & Facts collection aims to be a knowledge-sharing project to answer questions about sterilization which come from our expertise and field experience. By subscribing to our newsletter, you will discover sterilization fundamentals explained by renowned and trustworthy experts from our pharmaceutical network.
Here some Myths or Facts we want to share with you:
The reference temperature for moist-heat sterilization is 121°C as it guarantees a sufficient spores' lethality.

Myth: " Moist-heat sterilization process efficacy is not intrinsically linked to a target temperature of 121 °C, which is simply the Celsius [rounded] conversion of 250 °F; other temperatures can be used". (USP 43, <1229.1>). The same temperature for an exposure of 15 minutes under saturated steam condition is indicated also in Europe as "reference cycle" but "another combination of time and temperature may be adopted based on cycle development and validation" (EP 5.1.1). However a fact is the availability of an enormous amount of literature and experimental values (e.g. for biological indicators) referring to 121 °C or 250 °F; this makes any change rather difficult.
Steam sterilization is a process achieved by condensation of water and heat transfer from saturated vapour phase on the surface
of the items to be sterilized.

Fact: It is true. "The importance of using saturated steam for sterilization arises primarily from two attributes. First, saturated steam rapidly kills microorganisms because of the presence of liquid water. Steam heated above saturation,also termed superheated steam, lacks liquid water, and although it is higher in temperature than saturated steam it is substantially less lethal to microbes. Second, when steam changes phase from gas to liquid, it releases thermal energy (…) that is transferred to the load items, facilitating sterilization of their exposed surfaces." (USP 43, <1229.1>).
When the steam is in equilibrium with liquid water at the same temperature we can define it as "saturated steam".

Fact: Yes, we can. "Saturated steam is a biphasic mixture of H2O in gas and liquid phases in thermal equilibrium. Saturated steam has a singular temperature-pressure relationship in which both phases are present, and at a given temperature only one pressure is possible for saturation" (USP 43, <1229.1>). According to this, saturated steam can be more or less humid, depending on the actual content of water droplets entrained in it. A perfect dry saturated steam is a theoretical abstraction; a small amount of liquid water in it prevents superheating."
The accumulated equivalent time (lethality) F₀ changes depending on different autoclavecapacity/loads.

Fact:It is obvious that the mathematical formula of F₀ doesn't change from autoclave to autoclave, or by changing the load in it. However, the rate of heating and cooling, thus the accumulated value of lethality, depends on load properties such as viscosity, repartition, amount, etc. For example, a syringe filled with water will heat and cool faster than a syringe filled with a viscous product, thus accumulating less lethality during heating and cooling phases. All the same, a 1 ml syringe will reach the sterilization temperature much quicker and having already accumulated much less lethality than a 5 L intravenous bag filled with the same liquid. Also, a partial load of identical items will accumulate less lethality after the same holding time than a full load of them, due to the shorter heating time (and the subsequent cooling one). It seems to be a paradox, but no doubt that due to the quicker heating (and the subsequent quicker cooling) a holding phase with the same duration target will leave a partial load with less lethality than a full load.

 Sterilization Myths & Facts commented by our experts
Watch the video!
Vittorio Mascherpa

Senior Engineering Consultant 
Fedegari Group
James Agalloco
Sterilization and sterile process expert, USP's Microbiology
Committee member, Agalloco &
Associates CEO
Simone Riva

Manager, Process Innovation
Fedegari Group
Maria Luisa Bernuzzi

Manager, R&D
Fedegari Group
Daniela Martigani

Senior Researcher, R&D
Fedegari Group
Lucia Maita

Researcher, R&D
Fedegari Group
Alessia Cina

R&D Specialist
Fedegari Group
Samantha Kay

R&D Specialist
Fedegari Group
Vishal Sharma

Co-founder at Vienni Training & Consulting LLP
Vishal Sharma

Founder at Vienni Training & Consulting LLP & Eduoriens Skill development LLP
Did you miss any of our Sterilization Myths and Facts posts?
Get the pdf with all the experts' answers!